FREESKY TV OTT 4K RECEIVER NEW FIRMWARE UPDATE
FREESKY TV OTT 4K Digital Satellite Receiver New Firmware and with New server Option Software Download. Update Freesky HD Receiver Firmware with New IPTV Option. For All Model Freesky HD Receiver, Latest Software Update Click Here. New Update and For any Help Contact Us @ Facebook Page or Twitter.
As always FreeSky never gets to bring with to market IPTV receivers heated and the evolution of the FreeSky broadband launches its new TV box the OTT BOX FreeSky 4K TV c om Android system, dedicated server to delay minimum of 07 seconds , he comes to leverage the IPTV BOX market with the already known extreme quality of the Freesky brand and image quality in 4k ultra definition. With a modern design and compact size, the Freesky 4K Ultra HD FTA Receiver is perfect for being in different environments. In addition to adding numerous different content options for TV programming, it has the ability to reproduce images with Ultra HD 4K quality .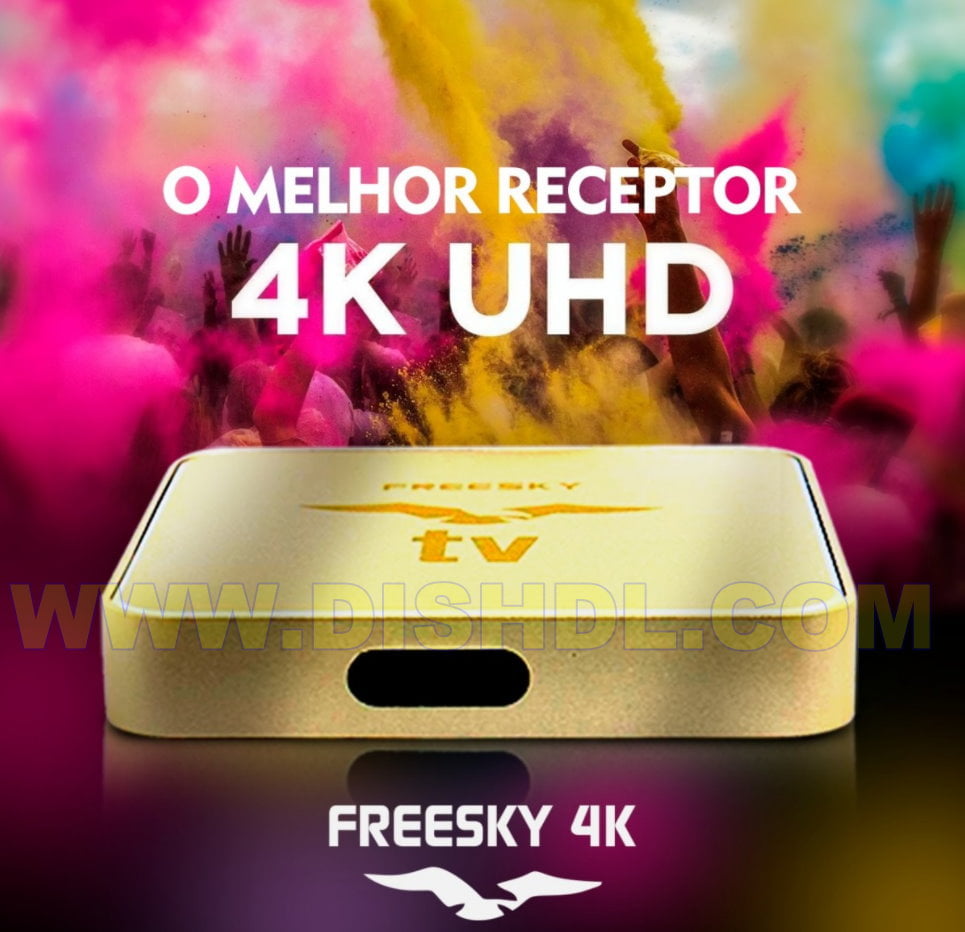 Product characteristics:
MODEL: IPTV Ultra HD 4K
Gold color
EXTERNAL MEMORY: Supports Micro SD/TF card
WIRELESS CONNECTIVITY: Bluetooth
VOLTAGE: 100-240V~50/60hz
MEMORY: 8GB EMMC
COMMUNICATION: Ethernet / HD OUT / USB
BRAND: Freesky
GROSS WEIGHT (gr): 590
PACKAGING DIMENSIONS (cm): 15.5 x 15.5 x 5.5
PROCESSOR: Quad-core
Specifications:
The Real Online Streaming;
Direct Signal;
7 Seconds Before Satellite (Satellite signal arrives 7 seconds before); (Delay)
Smart Android 4k HEVC;
IPTV & Movies Ondemand;
H265;
ATTENTION – To update your receiver:
Download the update and unzip if necessary;
Place the update at the root of the USB stick;
Reset the device;
Remove the antenna and network cables;
Insert the USB stick in the device and make the update;
After finishing, perform another reset, replace all cables and reconfigure.
File Name
New! FREESKY TV OTT 4K_ V7.0.8.23 28022023.rar
2- FREESKY TV OTT 4K_ V2.0.3.68 28022023.rar
1- FREESKY TV OTT 4K_ V2.0.3.65 29112021.rar
Update FREESKY TV OTT 4K_ Receiver Software 28/02/2023
Download FREESKY TV OTT 4K_ Receiver Firmware New Update