GEANT GN-CX 300 MINI HD PLUS RECEIVER LATEST SOFTWARE
GN-CX 300 MINI HD PLUS Satellite Receiver Software Latest Update. Receiver Update Geant HD Firmware with New Receiver Option. For All Model Geant HD Receiver, Latest Software Update Click Here. New Update and For any Help Contact Us @ Facebook Page or Twitter.
Main Features :
GN-CX 300 MINI HD PLUS
SCPC and MCPC to receive from Ku and C-band satellites
Software (data, maincode) for upgrading via USB or
Ethernet
USB 2.0 interface (FAT-FAT32-NTFS)
USB WiFi taken supported
Ethernet (RJ45)
Multi-language menu & audio (English, French, German, Italian, Spanish, Arabic, etc…).
Output resolution: 480i, 480p, 576i, 576p, 720p-50Hz, 720p-60Hz,
1080i-50Hz / 60Hz, 1080P-50Hz / 60Hz, 16 bit colors.
Teletext output by VBI and OSD
Conditional Acess Interface (CA).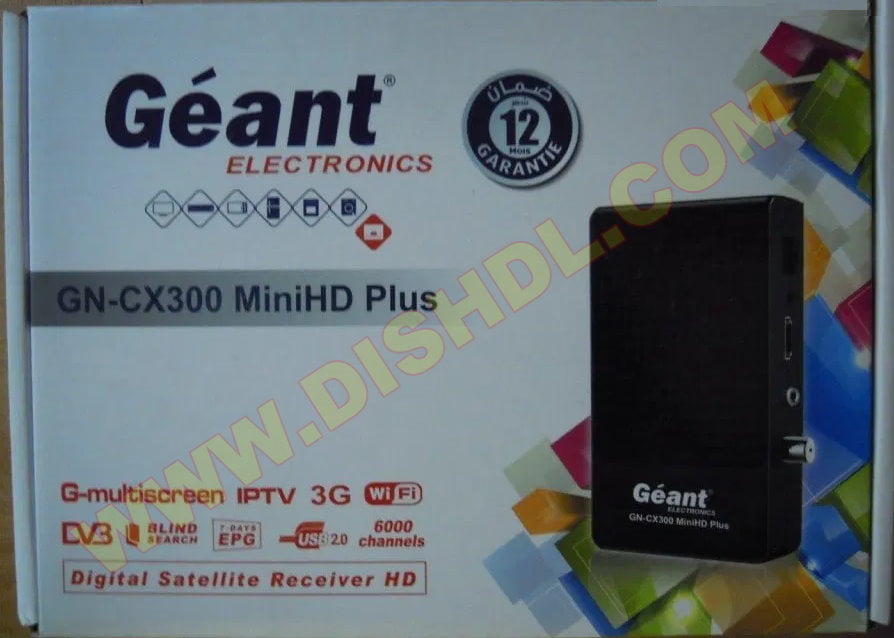 Description :
Easy to use, after connecting all the cables of the device in the right way, you can switch to the satellite menu interface.
Just select a seated device, repeat the LNB correctly and other settings. Some free and encrypted channels are displayed.
After scanning, all channels are automatically saved in the channel list.
Product details
Interfaces: Tuner: DVB-S2
IR-EX tuner: External LED display / External
remote control 2.4G remote control: 360 degrees in all directions
HDMI output connector HD: HDMI output with high level
supporting up to 80p & 480i, 576p & 576i,
720p & 1080i50Hz & 1080P50Hz 1
HDMI 1.4 HDCP 1.2 and DDC compatible
USB 2.0: 1 front USB; 1 USB back; Support USB WIFI 2
General Features: The operating system: ECOS
Storage: USB 2.0 / Support all kinds of storage,
recording, playback and connection
of all kinds of equipment USB
Format / PAL.NTSC
Video Full resolution: 1920 × 1080P 1920 × 1080i and 1280 × 720p
for HD video, 720 × 480p, 720 × 480i, 720 × 576i, and 720 × 576p for SD video
Standard: HEVC / H.264, ISO / IEC 14496-10 , ISO / IEC 14496-2, ISO / IEC 13818-2, ISO / IEC 11172-2
H.264 video, BP / MP / HP up to L4.1; MPEG-4 video, SP / ASP up to L5, MPEG -1 video
Aspect ratio: 4: 3, 16: 9 Pan & Scan, Letterbox
OSD and 2D graphics accelerator with true color,
Anti-flicker lter supported Standard: ISO / IEC 13818-3
(Decoding: MPEG1 I / II, MP3, MPEG-4 AAC and AAC plus (HE-AACv1 and v2), DRA,
Dolby Digital (AC-3), Dolby Digital Plus (DD
Image: Standard- JPG.BMP.GIF.PNG
Function DVB
(DVB-S / DVB-S2 Satellite conforming to (MPEG-II / MPEG-IV / H.264
Storage memory: 4000 to 8000 channels
Blind search Support; Multi satellite
search, network search, manual search
Program lock and favorite group edit Support
Multi-language menu Support (English, French, Russian, Greek, Italian,
Arabic, Farsi, l 'Ukraine, Swedish, Spanish, Turkish, German, etc.
Electronic Program Guide (EPG) -Today / Daily / Weekly
Teletext via OSD
Firmware upgrade via USB or network cable
Favorite group and parental lock supported
Sold with Product
Digital Receiver, Power Supply, WIFI Key, Manual, Warranty certificate.
File Name
New! Geant GN-CX300 MINI HYBRID PLUS_ V139 29042022.rar
2- Geant GN-CX 300 MINI HD_ PLUS V2.56(V1.09.22835) 06062021.rar
1- Geant GN-CX 300_ MINI HD PLUS V2.54(V1.09.22570) 22032021.rar
Update GN-CX 300 MINI HD PLUS_ New Software 29/04/2022
Download GN-CX 300 MINI HD PLUS_ RECEIVER NEW SOFTWARE