MEDIASTAR MS-10000 FERRARI SATELLITE RECEIVER NEW FIRMWARE
MEDIASTAR MS-10000 FERRARI Digital Satellite Receiver New Software.Software PC, Loader, and apps Download.Mediastar tools, channel editor. All Mediastar Dump Flash file Download.Other MEDIASTAR Receiver Latest Software Update Click Here. and Contact Us at Facebook Page or Twitter.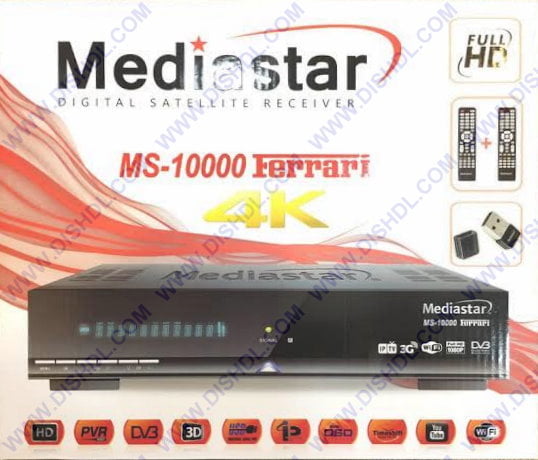 Full specifications of Media Star receiver model 10000 Ferrari:
1- Support DVB-S-S2 frequencies and 3D and 4K channels
2- Support channels with mpeg-ii/mpeg/UHD and 4K playback
3- It has two new and optimized remote controls, as well as support for other Media Star remote controls.
3- With 15 months of powerful global air sharing
4- With 15 months of powerful global internet sharing
A total of 30 months of powerful shearing
5- WiFi support along with a free WiFi USB with m7601 chipset
6- Beautiful, unique and modern panel design
7- Ability to support all types of cband/kuband LNBs
8- DiSEqC 1.0/1.1/1.2/1.3 usals support
9- Support new Tandberg and Powerview coding systems and…
10- The possibility of manual and easy entry of BISS, DCW, Tandberg, Powerview codes, etc.
Tuner

11- Advanced search capability or Blind Search
12- Network Search capability
13- Has a readable VFD panel
14- Has a LAN port
15- Has 2 USB ports
16- Has HDM version 1.4 output
17- With AV output
18- Ability to automatically update the names of new channels
19- Ability to edit PID
20- Ability to search multiple satellites at the same time
21- Ability to search multiple transponders or frequencies together
22- Support for a wide and simple list of channels
23- Storage capacity of 6100 television and radio channels
24- Full Persian language support
25- The ability to display Persian subtitles
26- The ability to change the color and background of the subtitles
27- The ability to edit and move channels in an urgent and desired list
28- Upgrade capability via USB
29- The ability to upgrade through the Media Star internet server through the receiver itself
30- Ability to update through RS232 port
31- Ability to enlarge the signal bar for ease of work during installation
32- Farsi teletext support
33- COAXIAL output capability
34- Connecting network and internet through wireless
35- It has features such as YouTube, weather, Google map, email, daily motion, newsreader, etc.
36- It has 8 prompts to categorize favorite channels with the possibility of increasing and changing names
37- It has a card reader
38- Beautiful, comfortable, practical and user-friendly menu
39- Ability to support all types of external hard drives
40- The ability to simultaneously record and see the same frequency channel
41- Ability to record from a channel and watch previously recorded programs
42- It has a very strong media player with the ability to support and play many audio formats and
Video

Video like: MKV – AVI – FLV – DivX – MP4 – 3Gp – Mp3 …….
43- The possibility of installing all types of IPTV
44- G-VOD capability
45- G-IPTV capability
46- G-TV capability
47- G-mytube functionality
48- Support m3u and m3u8 files
49- It has an accurate calendar with the ability to schedule
50- Net Photo feature
51- G-MScreen feature
52- VPN filtering feature
53- DLNA DMR capability
54- DLNA DMP capability
55- WiFi Direct feature
56- 3G modem support, sim card modem
57- Multi-picture feature
58- Ability to record in two PS and TS formats
59- The ability to download softcams and programs from a dedicated FTP server
60- It has a programmable time shift
61- The ability to set the clock manually and automatically
62- Recording timer and adjustable sleep timer
63- The ability to set the standby mode during a power outage
64- EPG electronic guide capability for up to 7 days
65- The ability to pause during recording and also in normal mode of watching PAUSE channels
66- Excellent Sisikcom support
67- SSSP capability
68- Twin Protocol feature
69- Support of various sharing protocols
70- Ability to control and stream with Android mobile phones and tablets
71- Ability to control and stream with ios mobile and tablet
72- Has X-TIMESHIFT
73- The possibility of using Actiocode protocol
74- Media Star exclusive IP-TV feature
75- Excellent and unique software support
76- and many other small and large facilities, which make using this receiver enjoyable for every user.
MEDIASTAR MS-10000 FERRARI FILES

New! MediaStar MS-10000 Ferrari_ BlackMenu V1.09.25210 20102023.rar
5- MediaStar MS-10000 Ferrari_ BlackMenu V1.09.23354 09122021.rar
4- MediaStar MS-10000 Ferrari_ Flash Dump.rar
3- MediaStar MS-10000 Ferrari_ V1.09.22711 28042021.rar
2- MediaStar MS-10000 Ferrari_ V1.09.21874 09062020.rar
1- MediaStar MS-10000 Ferrari_ V1.09.21728 29042020.rar
Channls List: MediaStar MS-10000 Ferrari_ Channel List.rar
How To Update Mediastar Receiver With PC Tools. Almost Download All Mediastar Tools.
MEDIASTAR MS-10000 FERRARI_ Receiver Latest Software 23/10/2023
DOWNLOAD MEDIASTAR MS-10000 FERRARI_ RECEIVER NEW Software