NEXT BROTHER HD PLUS DIGITAL RECEIVER LATEST FIRMWARE
Download NEXT BROTHER HD PLUS TV Receiver Software Latest Update.Next Brother HD Plus_ Plug and Play MPEG4 HD Scart Satellite Receiver with TGKS TV and Satellite Receiver Control with a Single Remote 4 Digit LED Display. Update Next HD Receiver Firmware with New Option. Also Download Next User Manual in English and Turkish. Software PC Next Receiver Fat32 Formatter and Next Receiver STB Link. For All Model Next HD Receiver, Latest Software Update Click Here. New Update and For any Help Contact Us @ Facebook Page or Twitter.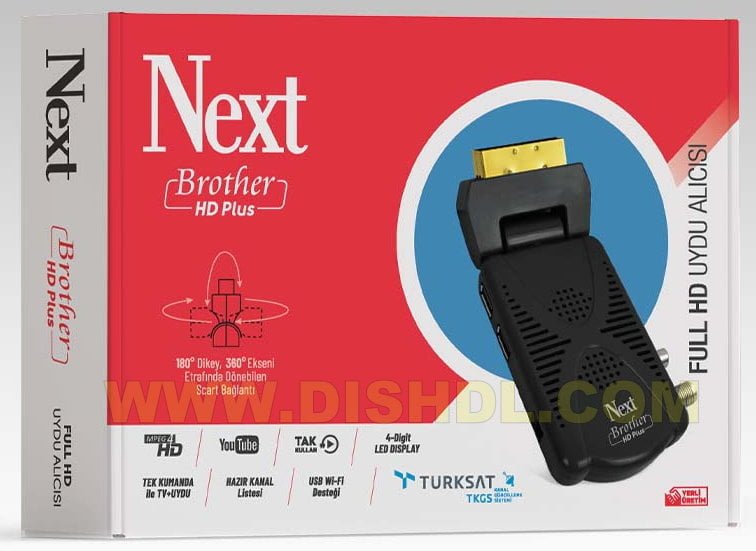 Main Features :
Satellite Channel Capacity: 5,000
Processor Speed: 600MHz
Flash Memory: 4MB
RAM Memory: 64MB
Operating System: RTOS & Next
USB Input: 2
HDMI Outputs: Yes
Analog A/V (RCA) Output: Yes
Scart Output: Yes (Moving Head)
Digital Audio Output: Yes (Coaxial)
TKGS Support
4-Digit LED Display IR Receiver Module
FullHD 1080p/i Video Resolution
Youtube & Weather Support
Teletext & Subtitle Support
Recording and TimeShift Feature (with USB Memory)
USB Wi-Fi Device (MT- 7601) Support
FAT & NTFS File System Support
USB Media Player Feature
Software Update via USB Device
File Name
New! Next Brother HD Plus_V1150 R130 21112023.rar
8- Next Brother HD Plus_V1137 R111 25092023.rar
7- Next Brother HD Plus_V1128 R102 10052023.rar
6- Next Brother HD Plus_V1127 R101 29042023.rar
5- Next Brother HD Plus_V1120 R94 08122022.rar
4- Next Brother HD Plus_V1119 R93 21112022.rar
3- Next Brother HD Plus_V1115 R88 31102022.rar
2- Next Brother HD Plus_V1077 R80 03062022.rar
1- Next Brother HD Plus_V1076 R79 16052022.rar
Update NEXT BROTHER HD PLUS_Receiver New Software 21/11/2023
Download NEXT BROTHER HD PLUS_ NEW FIRMWARE AND SOFTWARE.