ALPHASAT CHROMA DIGITAL SATELLITE TV RECEIVER SOFTWARE NEW UPDATE
ALPHASAT CHROMA TV Receiver última atualização. Download ALPHASAT DC PLUS Receiver Software, Firmware Latest Update. Update ALPHASAT HD Receiver Firmware with Many New Option. For All Model ALPHASAT HD Receiver, Latest Software Update Click Here. New Update and For any Help Contact Us @ Facebook Page or Twitter.
SPECIFICATION :
MODEL: Alphasat Chroma
COLOR: Black
VIDEO: Full HD 1080p
CPU PROCESSOR: Sunplus 1512 667 MHz
RAM MEMORY: DDR3 256 Mb
WIRELESS CONNECTIVITY: wifi
VOLTAGE: 100-240 V
OTHERS: •IPTV •DVB-S2 •VOD •DTV •DLNA
MEMORY: Flash 16 Mb
TERMINALS: USB x2 •Ethernet •RCA •HDMI •RS232 •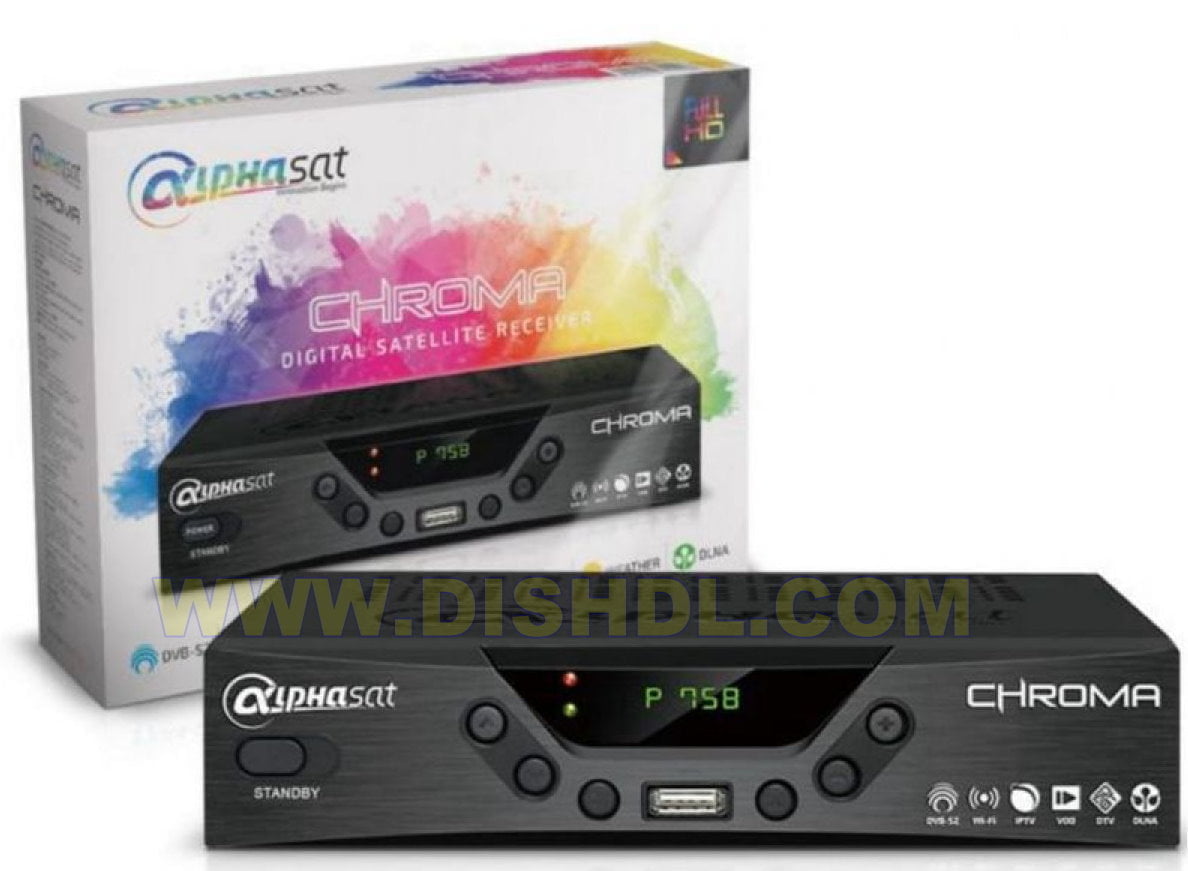 Description :
Two IKS service options;
IPTV with 220 closed channels made available by the brand where 90 channels are in HD;
Recall list with side EPG;
Channel list with 2 Columns + EPG, 1 Column + EPG and 3 Columns;
Virtual Remote Control function, you can manipulate your device through the Sunplus Remote STB App available on the Play Store and also on the APP Store;
Automatic update to Band C when connected to the internet;
Automatic Update function via Internet;
FREE application with availability for up to 5 free lists pre-configured by the user;
Programming progress bar in the Information Bar also in the Grid of channels with 1 and 2 Columns;
EPG activation after pressing the Green key on the remote control;
Change SKS service if you use more than one via the Blue screen of the remote control (Open a channel, press Blue, choose the other satellite and press OK on the DLINK you prefer to use);
Shortcut to Xcam Configuration via the Play Key on the controller;
Shortcut to IPTV through the IPTV key on the Control;
System Applications through the APP screen of the control;
 Adult app lock and adult programming active in: Menu, Setup, System, Child Lock;
Shortcut to BeepDoor in Antenna Installation;
Search channels by Favorites;
Active Web Server function for access via Computer or Smartphone;
Active Streaming function of channels via VLC;
DLNA DMS, DLNA DMR, DLNA DMP function;
Color callsigns for services in channel numbers;
Service callsign that is opening the channel in the Information Bar;
Starone C2 KU (70w) TP's updated, the user can perform the search in Automatic mode
File Name
New! Alphasat Chroma_ V12.04.18.S60 19052020.rar
2- Alphasat Chroma_ V12.02.25.S60 26032020.rar
1- Alphasat Chroma_ V12.00.07.S60 09012020.rar
ALPHASAT CHROMA_ Receiver Software New Update 19/05/2020
Download ALPHASAT CHROMA_ NEW SOFTWARE, FIRMWARE.