OPENBOX SX4 BASE HD DIGITAL SATELLITE RECEIVER LATEST SOFTWARE
Download OPENBOX SX4 BASE Sat Receiver New Firmware and Tools. For All Model Openbox HD TV Receiver, Latest Software Update Click Here. New Updates and For any Help Contact Us on our Facebook Page or Twitter.
The heart of Openbox SX4 BASE is an innovative high-performance STMicroelectronics STiH237 processor with a frequency of 650 MHz , 256MB DDR3 RAM and 128MB Nand ROM . The main advantage is low power consumption and built-in demodulator. All this allowed the well-known receivers for receiving digital satellite TV Openbox HD to become faster, brighter and more functional.
The operating system uses the open Linux platform, thanks to which you can install and configure various available plug-ins and further expand the capabilities of the satellite receiver.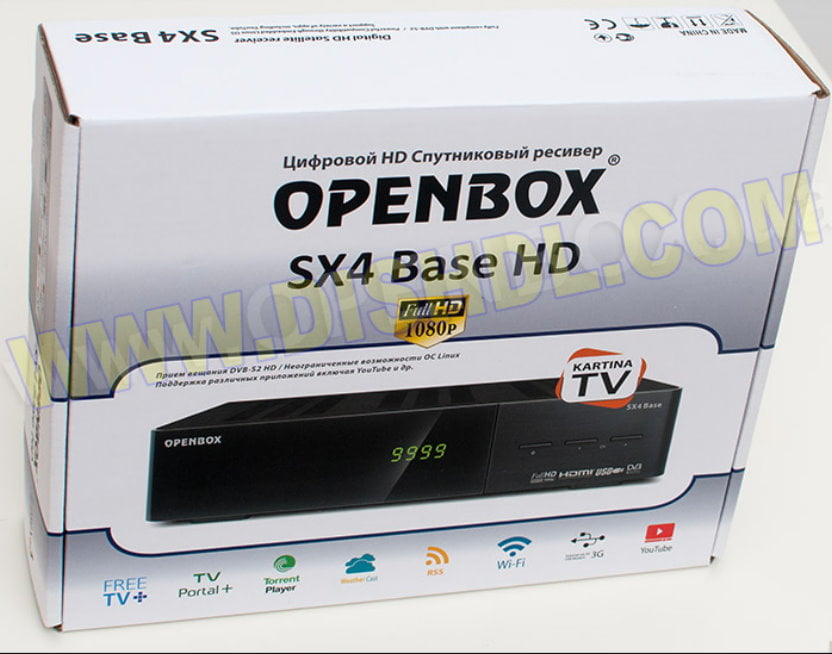 Specification :
Processor 450 MHz STi7110
Memory 256 MB SDRAM, 256 MB Flash ROM
OS Linux
Network connection Ethernet 10/100
Tuner DVB-S2
MPEG2/MPEG4 and H.264 decoder
Works with motorized antennas
Mode "Picture in Picture" (PIP)
Supported DiSEqC (1.0,1.1,1.2 и 1.3 USALS)
Film support AVI, MKV
Photo support JPEG
Internet TV (FreeTV +)
Services YouTube, SVT Play, Earth Touch, Metacafe, NTVSpor.net Fashion TV
network browser
Compatible with USB mouse and keyboard
Main features of Openbox SX4 BASE HD:
The latest chipset from STMicroelectronics STiH237
Modern DDR3 memory with a capacity of 256 Mb
Flash memory 128 Mb
Support for CI + (which guarantees work with modules NTV-Plus, Tricolor TV, etc.)
Internal HD resolution menu
Advanced Picture-in-Picture (PIP)
"Blind search" mode of transponders
Support for USB-WiFi adapters for connecting to wireless networks
Compatible with USB-3G modems
Playing DivX (XviD) Movies
View JPEG photos in high resolution up to 1080p
Convenient MP3 music player
DLNA for sharing multimedia content on the network
Support for various network protocols and NAS drives
Video streaming (streaming) and remote control AirTivi+ (for iOS and other devices)
Torrent Player
VOD services Free TV+ (video on demand)
Online broadcasting TV Portal+
Internet Radio and Weather Services
Reading news in RSS, Google maps and Facebook
Kartina TV – receiving Russian channels without an antenna anywhere in the world
Advanced web browser
Ability to install additional programs (plugins)
Automatic Software Update via the Internet
Full and high-quality localization for the CIS market
File Name

New! OPENBOX SX4 BASE_ NCIP V3.02.96 XtraTV 26042019.rar
2- OPENBOX SX4 BASE_ NN V3.02.87 10082017.rar
1- OPENBOX SX4 BASE_ Guide.rar


Update OPENBOX SX4 BASE HD Sat Receiver New Software 08/01/2023
Download OPENBOX SX4 BASE HD DIGITAL SATELLITE TV RECEIVER NEW FIRMWARE.