UCLAN USTYM 4K PRO LATEST SOFTWARE UPDATE
Download latest software for 4K UHD combo set top box with two tuners (satellite S2 and terrestrial/cable T2/C) with dual boot LINUX. UCLAN USTYM 4K PRO прошивка. Latest Download UClan TV receiver update прошивка. Now Download All Model of UClan satellite receiver firmware Click Here. Download Other digital satellite tv receiver software latest software and information Visit and Like Our Facebook Page.
Description :
The heart of Ustym 4K PRO is Hisilicon Hi3798MV200 powerful processor
ARM Cortex A53, Quad-core 64 bit, 15.000 DMIPS! (4 x 1.6 GHz)
Enigma2 operating system, with support from the best Enigma2 image development teams
Support for Multistream, T2-Mi, DD+, S2X and other
multistream2.png
Fast and stable operation of the Kodi Entertainment Center (XBMC)
Portals support
2 inputs: satellite S2 or S2X and terrestrial or cable T2/C
2 USB ports: USB3.0 + USB2.0
HDMI 2.0 output with resolution up to 3840x2160p (4K Ultra HD) 60fps
Wide Dynamic Range (HDR) 10 bit Hybrid Log-Gamma (HLG)
New H.265 Video Compression Format (HEVC)
High Speed RAM 1 GB + EMMC High Speed Flash 8 GB
WiFi with dual antennas enables high-speed Internet connectivity up to 300Mbps
Ethernet LAN 1000 Mbps (Gigabit Ethernet)
SPDIF Digital Audio Output
Integrated Card reader CA
MicroSD Card slot
DualBoot OS: Enigma2 + Denys_OS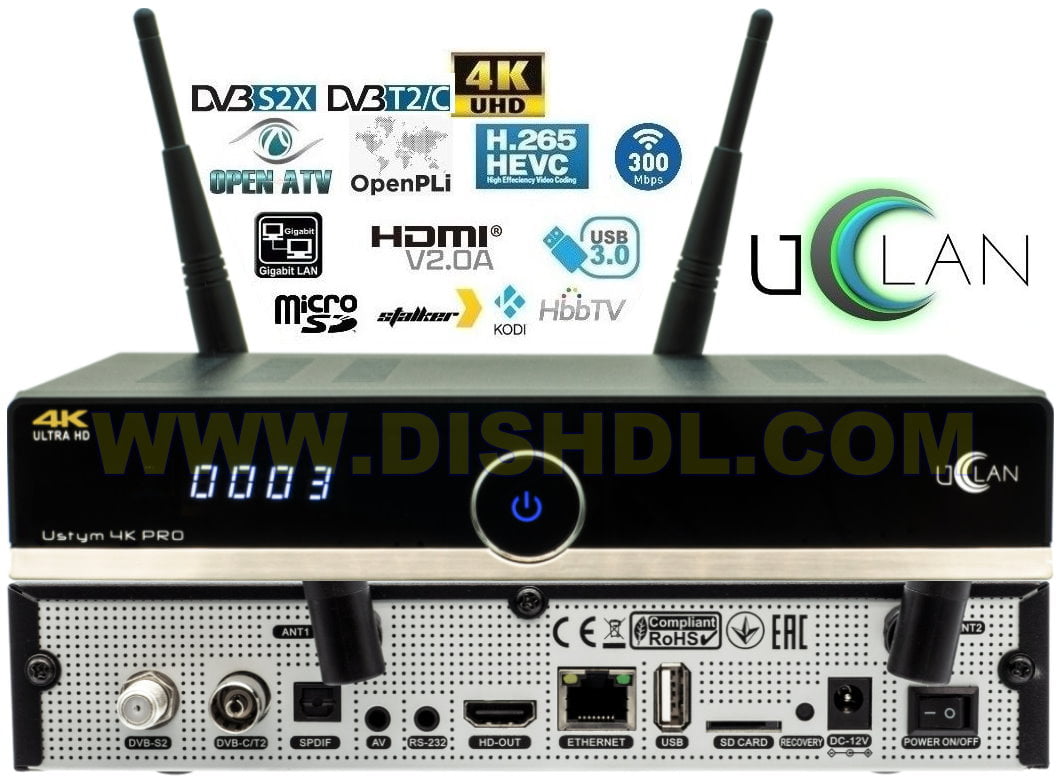 Specification:
Combination of 2 tuners: satellite S2 or S2X and terrestrial or cable T2/C
Multi-core 64-bit (4x 1.6 GHz) ARM Cortex A53 Hisilicon Hi3798MV200 processor with 15,000 DMIPS
GPU: Mali-450 multi-core high performance GPU
satellite fast tuner RDA5815m + Silabs Si2166-D60 demodulator
terrestrial or cable T2 / C fast tuner Maxlinear MXL608 + Altobeam ATBM7821 demodulator
8GB eMMC flash memory
1 GB RAM
4-digit 7-segment white display
High speed 300 Mbps WiFi (2 external antennas)
High speed 1Gbps LAN
Features and functions :
DualBoot (can choose which operating system boot up)
Open source operating system Linux Enigma2
Denys_OS proprietary Linux operating system
Full support for HW MPEG-2, MPEG-4 AVC, H.264 and H.265 HEVC
Multistream and T2MI support
DiSEqC 1.0, 1.1, 1.2 and 1.3 (USALS) and Unicable compatible
1x HDTV 2.0a TX output with HDCP 2.2 up to 4K @ 60Hz
Video Output Resolution: 4K / 2K UHD 2160p HDR, Full HD 1080p, 1080i, 720p, 576p, 576i and True 3D
HDR 10bit and HLG
PAL / NTSC support
Extended EPG and program timer reservation in EPG
Supports XMLTV EPG in DVB mode (Electronic Program Guide)
Channel change speed less than 1 second
Support for multiple language audio tracks
PIP HD and UHD (Picture in Picture)
Blindscan (blind channel search)
DD (AC3), DD+ support
1-Support for connecting to portals (WEB mode / Simply API)
2- Support for connecting to IPTV servers (.m3u .m3u8)
3- Support for connecting to WEB portals
4- Support for XMLTV EPG in IPTV modes (electronic program guide)
Chromium Browser with Mouse Support
Ffmpeq HW playback support
WEB interface for managing settings
Playback of 2160P H.264 and H.265 HEVC media
Record and TIMESHIFT in one moment
Online software update
PVR transmission recording (* optional)
Consumption 0.5W in standby
Power adapter 12V 2A
Dimensions 220mm / 125mm / 40mm
CE certificate
File Name
New! UClan Ustym 4K PRO_ V2.00.76 06082022.rar
1- UClan Ustym 4K PRO_ V2.00.57 12022022.rar
UCLAN USTYM 4K PRO_ Satellite Receiver Software Update 06/08/2022
Download UCLAN USTYM 4K PRO TV RECEIVER NEW FIRMWARE, SOFTWARE.