XCRUISER DIGITAL SATELLITE FINDER XS6650HD FIRMWARE NEW UPDATE
Xcruiser XS6650HD, Digital Satellite Finder, DVB-S2, OLED Color Display, Dish Angle Calculator, Spectrum Analyzer, Multi TP Analyzer. Download XCRUISER XS6650HD DIGITAL Satellite FINDER Software, Firmware Latest Update. Update XCRUISER HD Receiver Firmware with Many New Option. For All Model XCRUISER HD Receiver, Latest Software Update Click Here. New Update and For any Help Contact Us @ Facebook Page or Twitter.
Dish Angle Calculator
OLED Color Diplay
Spectrum Analyzer and Multi TP Analyzer
DVB-S DVB-S2, "Signal Analyzer only not channel scanner"
Multiple On Screen Display Langauges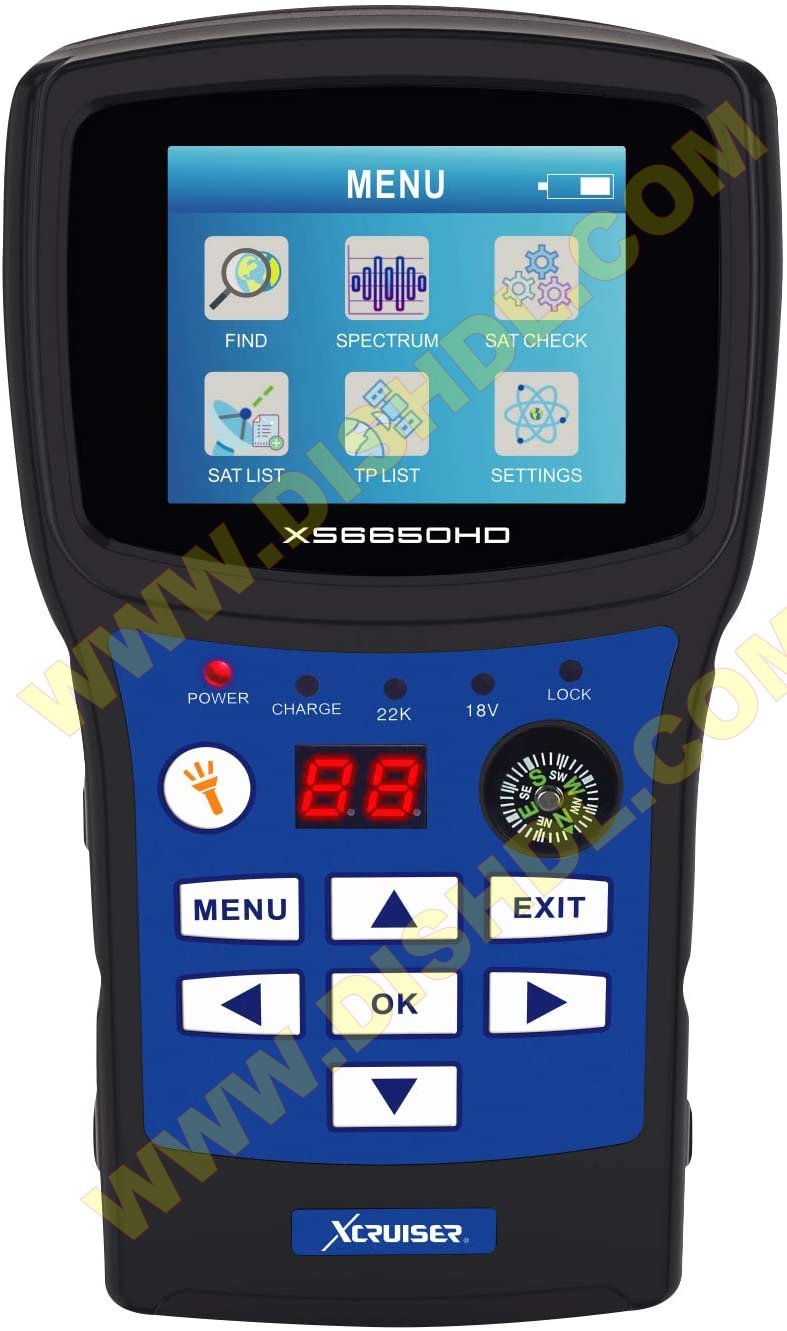 Description
The XS6650HD is a compact sized Satellite Finder with advanced features that supports; DVB-S and DVB-S2 signals with 8PSK, 16APSK and 32APSK Multistream Demodulation and all types of DiseqC switches, V1.0, V1.1, V1.2 and USUALS.
It's easy to prepare satellites and frequencies on your computer and updating it to your device by USB. 
Product Hardware Specifications
Input Signal Frequency Range: 950 ~ 2150MHz
Input Signal Level: -65~-25 dBm
Impedance: 75Ω
Signal Processing Symbol Rate: 1Msps~60Msps
Demodulation: DVB-S QPSK, DVB-S2 8PSK, 16APSK, 32APSK Multistream
22k Tone: Supported
DiseqC 1.0: Supported
USUALS: Supported
Display Size: 2.5inch Color Display
Signal Connector: F-Male Type
Keypad: Fluorescent glowing keypad
Power Adaptor: AC 110~240V 50Hz/60Hz
Power Supply: 12V 2000mAh
Battery: 2000mAh
USB Port: Yes
Compass: Magnetic fixed
File Name
New! XCRUISER DIGITAL FINDER_XS6650HD V4.39 26082021.rar
1- XCRUISER DIGITAL FINDER XS6650HD_V4.38 11052021.rar
XCRUISER XS6650HD DIGITAL FINDER_Software New Update 26/08/2021
Download XCRUISER XS6650HD_DIGITAL SATELLITE FINDER NEW SOFTWARE, FIRMWARE.