FERGUSON ARIVA 102E TV RECEIVER SOFTWARE DOWNLOAD

FERGUSON ARIVA 102E Satellite Receiver Firmware Latest Update Download, ferguson electronics, Ferguson 4K, Ferguson pl, Ferguson ariva and all set top box, receiver price. Click here for Ferguson receiver homepage and find Specification, Subscription, Webleaflet, User Manual and PC Software, Ferguson 4K IPTV, Istar TV channel, remote Control apps and Tools. Satellite Receiver New Update and For any Help Contact Us @ Facebook Page or Twitter.
Ariva 102E combines the features of a satellite TV receiver and a media player. It provides the highest image quality in both high definition HD and standard SD. Recording USB and support for MP3, OGG, FLAC, JPEG, MPEG and MKV turn the receiver into the center of home entertainment. The card reader hidden under a flap on the front panel allows you to watch pay TV in high definition HD and standard SD. The power consumption in standby mode does not exceed 1W.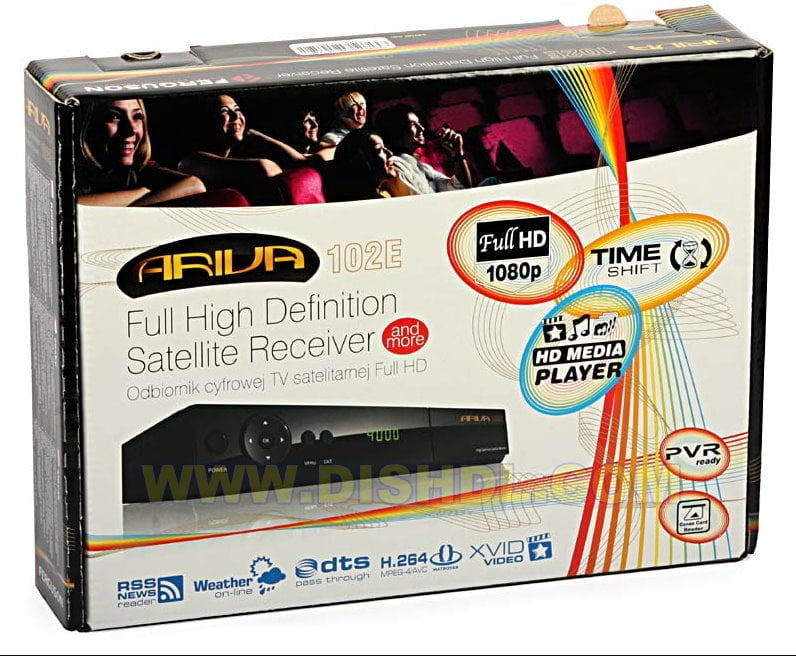 Technical Specifications :
Name Ferguson Ariva 102E
Code A99370
Chipset ALI M3606
CPU frequency 400 MHz
Input frequency range 950 … 2150 MHz
Input impedance 75 Ω
Tenderness -65 …- 25dBm
Standard DVB-S / DVB-S2
Demodulation QPSK, 8PSK
Symbol speed 2 … 90MS / s
FEC
1/2, 2/3, 3/4, 5/6, 7/8 for DVB-S
1/4, 1/3, 2/5, 1/2, 3/5, 2/3, 3/4 , 5/6, 8/9, 9/10 for DVB-S2
Audio decoder
MPEG-1 layerI / II, PCM downmix, IEC958 SPDIF, Dolby 5.1, Dolby downmix, Dolby Prologic2MPEG1
Video decoder
MPEG2 ISO / IEC 13818-2 MP @ ML, H.264 (MPEG4-10) MP/[email protected]/MPEG2 MP @ HL
Resolution 1920×1080, 1280×720,720×480
Audio sampling 32kHz, 44.1kHz, 48kHz
Power AC 175 … 250V, 50Hz / 60Hz
Power consumption Max 30W
Dimensions; Mass 260/155/45 mm; 1.4 kg

Distinguishing features:
MPEG-2, MPEG-4, MPEG-4 AVC / H.264
support – Universal card reader supporting Czech-Slovak cards / Skylink / UPC
CI slot
7-segment
USB 2.0 connector on the front and back panel
Timer for up to 32 events
User-friendly OSD menu
720p & 1080 resolution support
EPG program guide, teletext, subtitle support
Favorite groups of TV and Radio channels
DiSEqC 1.0, 1.2 a, Usals support
Parental lock
QuickFind channel search function
Time Shift function
WiFi dongle support 802.11b / g / n
Access to youtube, YouPorn, dailimotion, rss, weather, google maps
connectors:
1x scart
HDMI
2x RCA (Cinch) analog audio
LAN, RS232 port
2x USB
Optical digital output
Dimensions 260x180x50 mm
File Name
New! FERGUSON Ariva 102E_ V1.31B2 12082016.rar
3- FERGUSON Ariva 102E_ Manual.rar
2- FERGUSON Ariva 102E_ 3606 EromUpgrade.rar
1- FERGUSON Ariva 102E_ 3606 Editor.rar
Update FERGUSON ARIVA 102E_ Receiver New Software 12/08/2016
Download FERGUSON ARIVA 102E Receiver New Firmware